Roadside Assistance Dallas
24/7 Expert Dallas Roadside Assistance
Complete Roadside Assistance Solutions in Dallas TX
Roadside Assistance Dallas TX: Helping you get back on the road fast
Engine malfunction, vehicle breakdown, and accidents are events that as much as possible, we don't want to happen. But the truth is told, no matter how much preparation we make to avoid such circumstances, there may come a time when we'll get stuck in the road.
Getting stuck on the highway can be a pain in the head. The situation can be worse when you have to go somewhere, stuck in a place where you aren't familiar with or have encountered engine failure in the middle of the night. This isn't easy or fun. We understand the struggle of every driver. Our team aims to be at your service during the worst hours you spend on the road – and whenever and wherever you are. We'll be at your side when you need help the most. Just give us a call.
Your Go-to Roadside Assistance Service Provider
With other roadside assistance service provides out there, why should you choose Roadside Assistance Dallas Texas?
Quality service through transparency and Efficiency
The stress you get from getting stuck in the road is enough. Roadside assistance provider should not add to your stressors anymore. One of the things that can hurt your head and your pocket are hidden charges.
When you phone us and discuss your concern, we'll give you a quote which is usually the fixed price. So you don't have to worry about any surprise additional cost of service. In case of price adjustments, you'll know immediately. We believe transparency is essential to ensure quality services. We aim to be transparent not only with the price but with the service. You'll know what will happen to your vehicle so you won't worry about it anymore.
Your vehicle is in good hands with us. Our team that provides assistance and towing are skilled, licensed, and bonded. Our staffs have been providing assistance to different roadside concerns for years now. They know exactly what to do to unstuck you soonest. Our roadside experts are fully equipped with knowledge and skill to get drivers back on the road. We also have licensed and trusted drivers as well as a fleet of trucks for your towing needs. Tell us what assistance you need and we'll get you covered.
Roadside Assistance Dallas TX: Helping you get back on the road fast
We Take Your Vehicle With the Utmost Care
Broken stuff should be given an utmost care. Even if your car or motorcycle is already broken, we make sure that it will not acquire any further damage. We'll be there for you within fast response time! Vehicle mishaps are generally unpredictable. So our expert and cool team is always here for you 24/7, 365 days. We also make sure that our team will arrive at your location in half an hour.
Always be prepared!
It will save you time and money. Save our phone number now whether or not you have a vehicle and roadside assistance concern now. So help will be one click and call away. Roadside Assistance in Dallas TX promises you with the result you want from us. We believe it is quality service.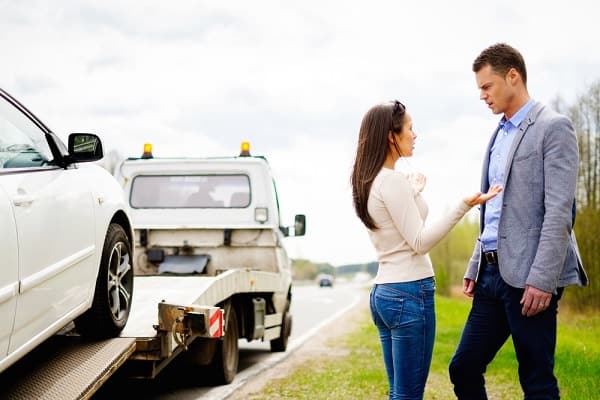 OUR ROADSIDE ASSISTANCE SERVICES
Our roadside assistance solutions cover a wide area of automotive services and troubleshooting. Dallas Roadside Assistance service commercial trucks, trailers, light trucks, car & motorcyle and more… Our roadside assistance company in Dallas, TX is open 24 hours a day in 7 days a week, with a guaranteed a short response time.